After a year marked by logistics disruptions, production delays, and doubling down on technology investments, supply chain leaders are taking a breath and looking at what's next. The ASCM recently released their Top 10 Supply Chain Trends Report which highlights an increasing focus on digital supply chain transformation, risk management and resilience, and the importance of circular and sustainable networks. Here at Made4net, we wholeheartedly agree with the ASCM's predictions, and believe a few trends in particular warrant special attention this year.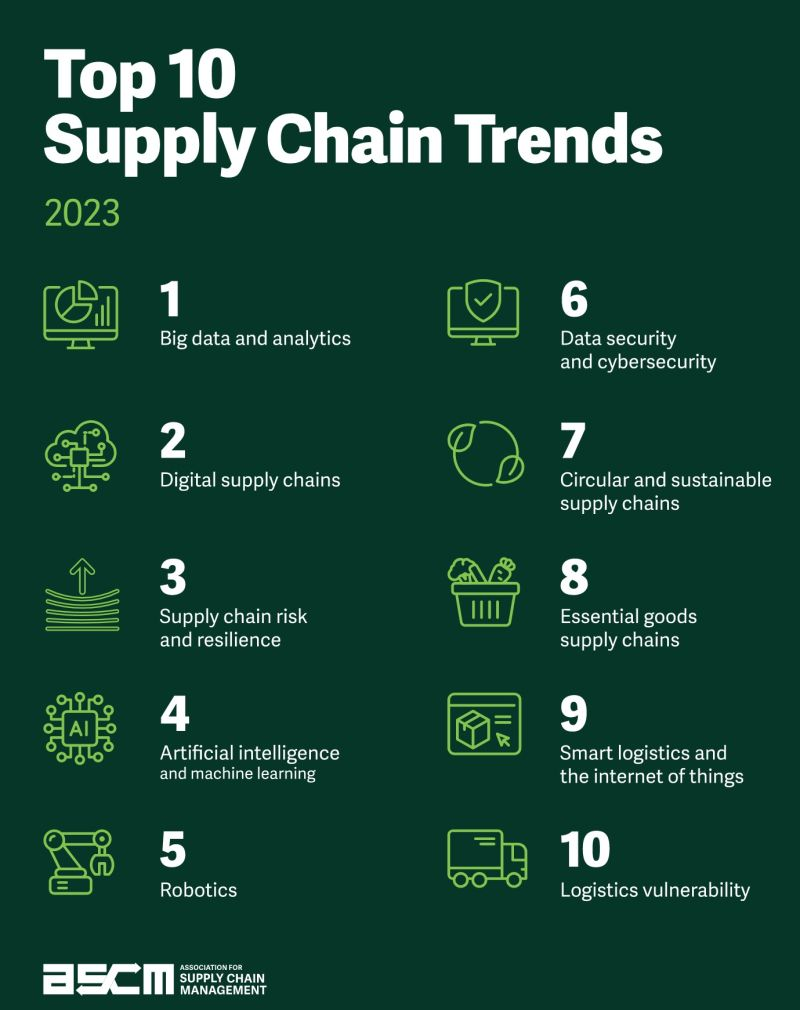 #1 Labor Shortages
While this topic wasn't specifically called out in the ASCM's predictions, it's undoubtedly related to almost every trend cited. Labor shortages, especially in the warehouse, continue to impact many supply chain decisions and investments. Berkshire Grey's 2022 State of Retail & eCommerce Fulfillment Report, found that more than half of executives they surveyed (57%) believe labor shortages have hindered their ability to meet demand. While close to two-thirds of executives (60%) said they were planning to increase hiring to improve fulfillment costs, half of the executives said they are also planning to improve internal processes (52%) and increase investments in warehouse automation (47%). 
"Our customers simply can't find the labor force they need to get goods to their customers," says Chris Geyer, VP at Berkshire Grey. "In the words of one of our customers, 'The labor pool just does not exist.' And they can't retain the labor they do have. Some of our customers have reported 300% turnover. That's three people per year for any given role. Many of our customers' shipping volumes have been growing year over year, but the population isn't growing, so lack of labor is an existential threat to these businesses and is the No. 1, 2 and 3 factor leading to interest in warehouse automation."
#2 Robotics/Warehouse Automation
Without a labor pool, investments in warehouse automation will continue to soar. This includes goods-to-person (GTP) solutions (essentially robots or machines that bring materials to workers for assembly or packing), pick-to-light systems, voice picking and voice tasking solutions, sortation systems and more.
According to Lisa Chai, partner and senior research analyst at ROBO Global, 80% of warehouses today have no automation at all. Another 15% have some automation, while a small 5% have implemented more advanced technologies. Despite these numbers, many industry experts believe we will start to see an increase in adoption over the next 5 years, driven by several trends, including an ongoing labor shortage, a more integrated warehouse and the introduction of better and more affordable solutions.
#3 Warehouse Execution Systems (WES)
Again, not a trend cited specifically by ACSM, but an issue tied tightly to warehouses adding robotics and automation, because as they do, the need for additional software to coordinate all these resources – specifically warehouse execution systems (WES) – has arisen.
According to Modern Materials Handling, "WES is catching on because it can coordinate resources around incoming orders with full knowledge of the availability of automation resources." Amit Levy, executive vice president of customer solutions and strategy with Made4net explains, "Today much more automation is being used in warehouses, whether in the form of conveyors, sortation, automated storage and retrieval systems, or mobile robots. There are also more operations doing omni-channel, so the complexity of running a DC increases and as a result, makes it more challenging for the WMS solutions to support all these automated components."
To address this need, some WMS providers like Made4net, now offer WES functionality so users can, "manage all warehouse resources, the manual workflows, the robots, and the fixed automation with one task-control engine, and with the objective of synchronizing all these resources to execute on time," says Levy. "The main benefit is to have it all—both the WMS and the WES functions—running on a single platform.
#4 Cloud-based and Software as a Service (SaaS) Models
Many software providers now offer digital, cloud-based solutions that are attractive to users because they deliver system access anytime, anywhere, offer lower and more predictable costs, reduce IT and maintenance costs, and enable rapid deployment, real-time updates, and limitless scalability. 
​​Gartner research indicates that migrating to the cloud can yield:
31% savings in capital and cash

26% savings from replacing perpetual licenses with perpetual cloud subscription costs

15% savings from staff reduction

31% savings from elasticity (ability to turn services on and off)
Expect the demand for on-premise solutions to continue to decline. 
#5 Circular and Sustainable Supply Chains
According to the Harvard Business Review, "A rising number of multinational corporations have pledged to work only with suppliers that adhere to social and environmental standards. Typically, these MNCs expect their first-tier suppliers to comply with those standards, and they ask that those suppliers in turn ask for compliance from their suppliers—who ideally ask the same from their suppliers. And so on. The aim is to create a cascade of sustainable practices that flows smoothly throughout the supply chain, or, as we prefer to call it, the supply network."
As such, we are all on the hook to do our part to create a greener supply chain. Growing initiatives include eco-friendly packaging to eliminate waste, using energy more efficiently, using alternative fuels and electric vehicles, improving delivery routes for less carbon emissions, and ensuring that returns are re-sold, refurbished, or recycled. This is one 'trend' you can expect to see going forward every year.
In Summary
It's an exciting time to be working in the supply chain industry. Today you can't browse any media without seeing a mention of it. The supply chain is truly a part of every consumer's life. Here at Made4net, we love helping our customers build agile supply chains that enable them to pivot quickly and affordably so they are always ahead of the trends. If you need help – get in touch!
Download the report: https://www.ascm.org/making-an-impact/research/top-supply-chain-trends-in-2023/