Implementation Services
Faster and easier to deploy.
The first measure of Speed to Pivot is Time to Value – the time it takes from selecting a WMS provider to realizing ROI.
Our PIVOT accelerated implementation process starts with our flexible, rules-based platform, which was built on Microsoft technology and service-based architecture. Our solutions provide faster time to value with these features:
A host of specific product features and best practices accelerate every phase of implementation.
Jumpstart training sessions expedite the design phase.
Proven, industry-specific templates ensure customers don't have to start from scratch.
Workflow-based applications allow implementation teams to configure rather than code, shortening the path to launch.
Cloud-based or on-premise deployment model.
Dashboard wizards, screen generators and a visual workflow to define scenarios and employ "this then that" methodology.
Other WMS implementations can take 9-12 months, or more for a single site to live. Our typical time is 5 months. Some of our 3PL customers are live in just 2 months. Why are we so much faster?
Made4net has compiled an impressive history of successful systems implementations, ranging from very small systems at single site facilities to complex solutions throughout multi-national organizations. The Made4net methodology has remained the same throughout: understand the customer's business requirements through process methodology, thorough planning, comprehensive training and the right leadership to assure a successful project implementation.
Our three-step approach includes:
Methodology – proven in hundreds of deployments around the globe, our rapid implementation methodology achieves an average go-live time of about 20 weeks, and for more limited applications, customers can start capturing ROI in 2-3 months.
Discovery – we dig deep into your business to work with you to determine the best processes and solutions for your challenges now, and into the future.
Configuration – with workflow-based applications, we configure rather than code, and create the right fit for your business requirements. The team also assures the customer that all WMS applications are fine-tuned, functioning to meet the specific needs of their supply chain operations.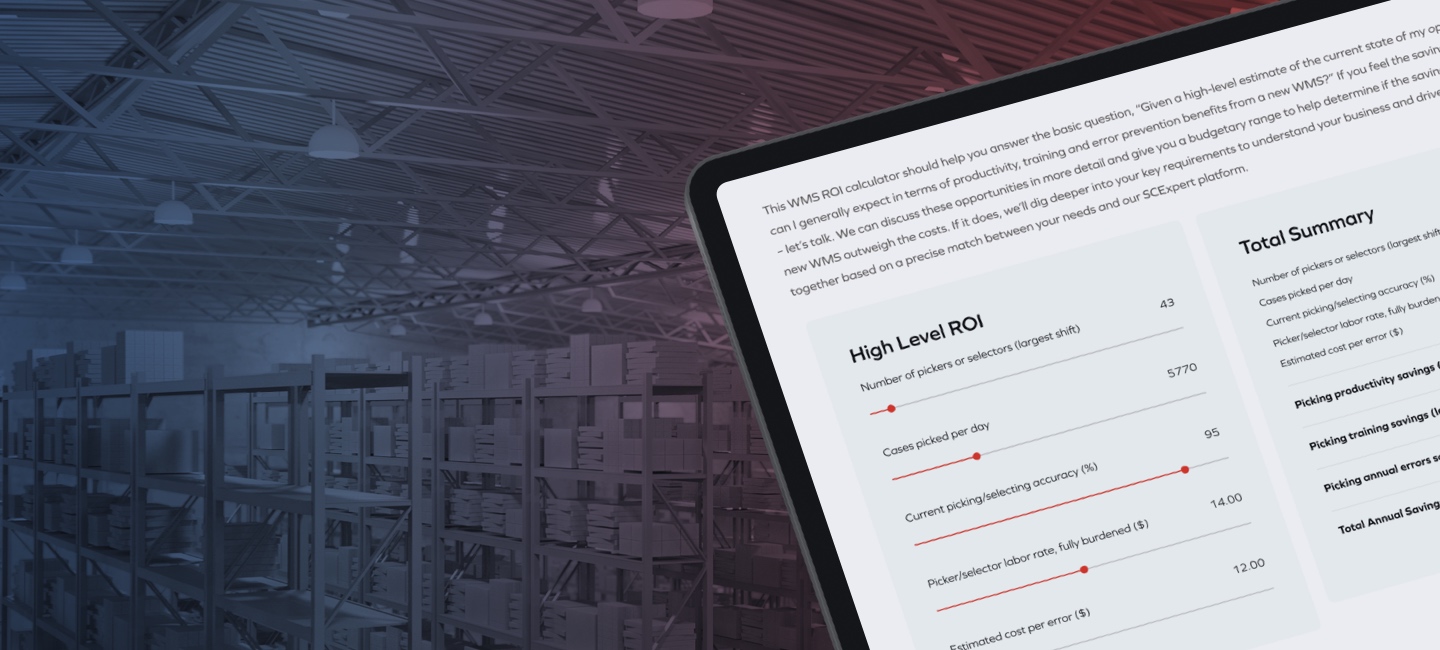 What's your ROI?
This WMS ROI calculator should help you answer the basic question, "Given a high-level estimate of the current state of my operations, what can I generally expect in terms of productivity, training and error prevention benefits from a new WMS?"
Learn More
Advisory Services
Uncover opportunities.
Distribution has become more complex, and labor shortages and inventory shrink are a constant battle.
There are many new processes, systems, equipment and tools available to make your supply chain more efficient and we can help identify opportunities. Our supply chain experts have helped hundreds of companies overcome their supply chain challenges, and we can help you with operational improvement and engineering consulting services.
Optimize space utilization
Increase capacity
Minimize inventory shrink
Streamline processes & reduce overtime
Evaluate the ROI of new supply chain solutions
Workforce management & engineered labor standards
Measure volume of goods compared to labor Learn more about how our team's expertise in supply chain operations, integration, reporting, testing and user training can improve your supply chain.
Customer Care
Personal attention and support.
Engaged and accessible customer service and advocacy.
Made4net isn't as big as the very biggest WMS players. But our size has its advantages, especially when it comes to customer service, personal attention and support. By nature, we're more nimble and less bureaucratic. Our people are more willing to go off-script in the name of helping customers solve problems and seize opportunities. So when it's time for you or your internal users to pivot, you can count on being able to access the right Made4net people at the right time—in time for you to quickly adapt to changing customer and marketplace requirements.
Global Support Centers
Made4net solutions are deployed in 30 countries in 20 languages. We have the staff and expertise to support your distribution centers around the globe.
Remote or on-site support
Made4net's customer support and technical service professionals provide support onsite and can also access customer systems securely and remotely to perform tasks such as system diagnostics, troubleshooting investigations and providing necessary system updates.
Customer Experience
With thousands of users, we support many of the top companies in the industry. We provide 24/7 support and ensure our customers can reach the right person at the right time for fast resolution.
What our customers are saying
"With the new system, we have gained four additional days for shipping out packages. This is a big deal for us operationally and for our bottom line. Our fulfillment process is now much faster and smoother given inventory accuracy at the pick line and real-time replenishment. We can ship orders out in no time."

Inventory Supervisor, Rotech Healthcare Inc.
Education Services
Knowledgeable users create better results.
Our tailored training content and curriculum gets users up to speed faster.
Many large-scale supply chain projects falter because end-users and other team members lack a deep understanding of what new software solutions actually do. Unshared software knowledge and know-how lies dormant, and proper usage lags as users play catch-up or patch together workarounds or quick fixes.
Made4net maintains that configured and customized software training across the enterprise leads to more successful supply chain execution software deployments.
Customized training for your specific needs
Our training programs are custom-built to meet our customers' specific business needs, requirements and processes. Made4net's training professionals develop for each customer a highly focused, high-quality educational curriculum, and tailors content specifically to each customers' key personnel, from end-users to supervisors, for their individual job responsibilities.
Made4net provides specialized training and tailored educational content and materials so you can get more from your WMS, TMS, and supply chain execution solutions.
Training begins at the start of the project and continues throughout. And proper end user training is vital to ensure they can do their jobs on day one. Our trainers train on standard processes and on 'what ifs" so users are prepared to handle issues.
Whether you want your supervisors to have general working knowledge of your new warehouse management solution or you want your warehouse associates to understand all the ins and outs of all the embedded features, we have a training program to suit your needs.
Contact Us
Expansion Services
Launching is just the beginning
Your Made4net go-live is a critical step in your supply chain transformation, and it is a great cornerstone for continuous improvement.
Your business constantly changes and we are here to help you pivot to take advantage of opportunities as your business evolves. Our supply chain experts are here to guide you through additional site deployments, add-on solutions, process improvement, analytics, new integrations, upgrades and more.
Let's connect.
We look forward to discussing your supply chain's digital transformation.