3PL Warehouse Management Services
Software is Only Part of the Solution
A truly successful 3PL warehouse management system requires the right support to match.
To get the most out of your Synapse WMS investment, Made4net provides a comprehensive lineup of professional services, hosting options and integration capabilities.
Knowledgeable, experienced professionals
Professional Services
To translate complex requirements into efficient workflows, you need knowledgeable, experienced professionals who have "been there and done that."
With a track record of thousands of successful warehouse software projects for over 100 3PL companies, Made4net's professional services team is unparalleled in the industry. We're always available when you need us – and that starts the day you select Made4net as your WMS partner. As your business evolves, our professional services team will be there every step of the way, acting as an extension of your own internal resources. That means providing additional training, supporting process improvements, adding new facilities and customers, and more.
Software Development
Specialized development resources are ready to unleash the true potential of Synapse WMS in your operation with ongoing software updates, custom functionality and more.
Implementation
For Synapse implementations, we never outsource implementation to contracted consultants. Every implementation specialist at Made4net is a seasoned veteran with a vested interest in your success, bringing an average of 14 years of industry experience and 11 years specifically with Synapse WMS to each project. They are responsible for ensuring your project stays on track and on budget, while setting up your WMS for success with transition and utilization best practices. Services include:
Detailed project planning
Review of process changes and enhancements
Training online, at your facility and at our corporate training center
Support during and after go-live
Technical Support
Get the help you need from a dedicated specialist familiar with you and your business. The Synapse Support Desk is your dedicated support mechanism to keep critical warehouses running at peak efficiency.
Uncover opportunities
Hosting Options
Your business is keeping high performance supply chains moving, not managing software IT infrastructure. At Made4net, we understand this and offer a variety of hosting options for you to choose from.
SaaS
Hosted
On Premise
Security to Sleep Well at Night
SaaS or hosted customers enjoy peace of mind, knowing that their WMS is hosted in a carrier-grade facility in Chicago, IL. Multiple internet providers, several backup generators, monitored climate control, biometric access controls and state-of-the-art enterprise equipment are all a part of the package. And an available secondary carrier-grade facility in New York provides further redundancy and security to ensure always-on uptime. Made4net hosting services are run by a team of dedicated professionals who monitor, backup, support and administer all aspects of Synapse WMS, all day everyday.
Upgrades on Your Schedule
Most cloud-based software takes a "single instance" approach, meaning all users are logged into the same version with the exact same features. Made4net is different. Synapse customers get a private hosting network with dedicated servers that run their unique instance of Synapse.
A data integration solution built to facilitate growth
Integration Services
Your WMS cannot operate in a silo. It must integrate with other internal systems and sometimes customer systems as well to enable an effective, reliable system with the visibility and scalability you need.
Synapse WMS easily and securely integrates with various tools making even the most advanced warehouses easy to control.
Financials and Shopping Cart Programs
Order Management Systems
Parcel Manifesting
ERP Systems
Transportation Management Systems
Warehouse Automation
Managed Integration Services
Managed Integration Services (MIS) is a turnkey data integration solution designed specifically for users of Synapse WMS. Exclusive, in-house knowledge of Made4net's synapse software offering enables a streamlined data integration process, with the speed and efficiency to bring solutions to production faster and help 3PLs quickly scale to capitalize on growth opportunities.
Made4net MIS provides an end-to-end data integration solution well suited to the needs of e-commerce fulfillment operations and logistics providers for manufacturers, including all necessary testing to achieve seamless operation with Synapse WMS. Compatibility with a broad range of data formats and communications protocols enables the data exchange between internal and external systems to better manage orders, inventory, shipping and more.
Working with MIS means key advantages for Synapse WMS users, including:
Reduced administrative burden – Using internal resources or bringing in additional software vendors to handle integrations can risk lower quality with increased cost and longer timelines. MIS is available on-demand, relieving the pressure to staff in-house integration resources and offering fast, cost-effective integration that frees you to spend more time on your core business
Broad compatibility – With any-to-any data transformation and communications, MIS offers the broad capability to facilitate seamless integration with ERP systems, small parcel shipping systems, e-commerce shopping carts and much more. The solution also offers integration into systems with or without APIs, data transformation between multiple formats (including EDI and XML) and a broad range of communications protocols, including AS2.
In-house expertise – Nobody knows Synapse WMS better than we do. Our experience and expertise enables fast, efficient integration without costly customizations that can slow down speed to market and risk incompatibility with future releases.
What our customers are saying
"Of all the systems we evaluated, and our process was extensive, Synapse had the broadest functionality and the most diverse installed base. Barrett is a progressive user of the WMS and we needed a system that we could stretch to new limits, limits that other systems never contemplated, without writing a lot of new code. "

Arthur Barrett
President, Barrett Distribution
Related Resources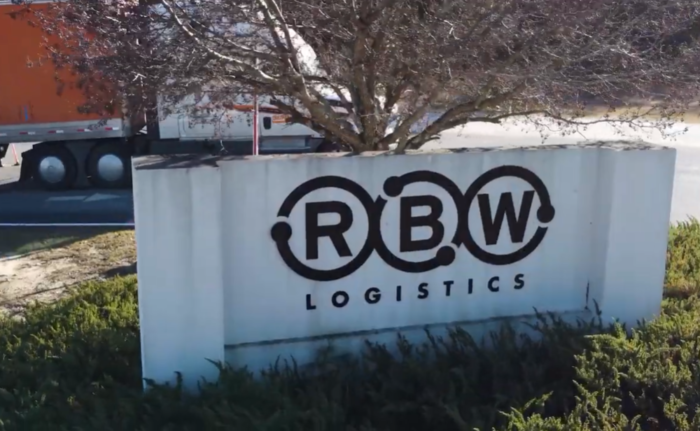 RBW Logistics deployed Synapse WMS to help power 3 straight years of double-digit growth for this Georgia-based 3PL.
Learn More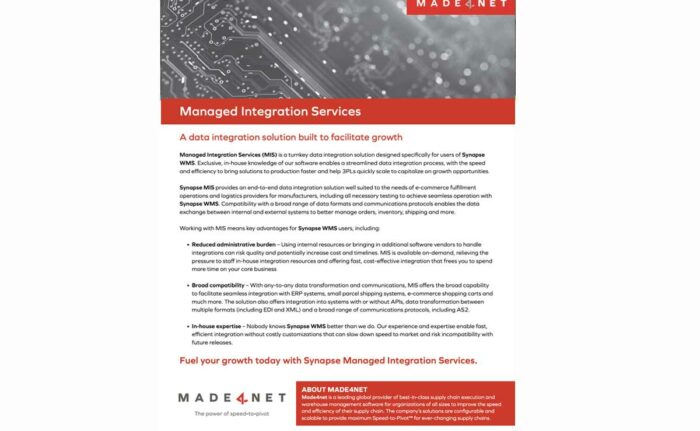 Managed Integration Services (MIS) is a turnkey data integration solution designed specifically for users of Synapse WMS. Exclusive, in-house knowledge
Learn More
Let's connect.
We look forward to discussing your supply chain's digital transformation.